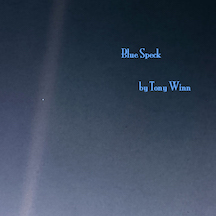 £10 PLUS £2 P&P UK + £4 P&P WORLDWIDE
Tony Winn: Blue Speck. Album Review.
Liverpool Sound and Vision Rating 9/10
Our world, our planet, is the only Blue Speck that for the foreseeable future is one we can call home.
We must endeavour to keep it in a reasonable state, to repair it, to keep it viable, for those who will take on the tenancy once we leave and hand in our collective notices; but instead of the anonymous graffiti of life we seem happy to leave as a scrawl of our time here, we must acknowledge that a signed piece of art of any stature would be a greater gift for others to understand what we were once capable of, and what some produced with endearing dignity and passion.
To Tony Winn that Blue Speck is always worth adding to, of offering hope and genuine pleasure to a world, and as the song title implores, All We Have is all we have, but it doesn't mean it cannot be magnificent.
The album is at all times charming, fruitful, it has the beauty of poetry and the will of drama strewn throughout the aural experience, and yet the imagery that is drawn as the music flows is one that wouldn't be out of place in any high-class gallery, that would add artistic value to a wall that hosts names such as Constable or Gainsborough.
The effect is startling and enduring, and as tracks such as When This All Blows Over, When All's Said And Done, the superb The Sad Lament Of Harry Keable's Mother, Running On Empty, and Life, The Universe And Everything, as well as the surprising and hauntingly melancholic reading of Good King Wenceslas, Tony Winn's latest dramatic recording is one of splendour, one of fierce insight, and yet delivered with a calming presence, a watcher who knows just how to have the narrative move the listener so that emotions are heightened and received like an answered S.O.S. in the last throw of desperation.
Blue Speck is an album of desire, and one that you want to see outlast our own time on the third rock from the sun.
Ian D. Hall