Liverpool Sound and Vision Rating 9/10
It doesn't matter when you come across the artist, it only matters that you do. A simple sentence to live by perhaps, but one that inhabits the space arguably between regret and hope like no other; you can spend the time lamenting the realisation that you must missed the unmasking, the early raw period of an artist to whom the music captivates you at the very defining moment you cross paths, or you can hope, you can feel the bounty that is to optimistically come.
It is in the space between that is characterised by the feeling of the Push and Pull, the bouncing between two states of emotions that make you determined to see the intrigue, passion and the love through.
Tony Winn's seventh album is an album that you can define, except for the pulse driven thought, a class act. A highly original album, Push and Pull is up-tempo, eclectic, a poet's work of art, one in which the music is there for the ride, guiding, pushing the lyrics to their wonderful and heartfelt conclusion and the pull? That hook in which you gratefully grab hold of as if by nothing other than a natural urge to see what lays on the other end of the line; that is the heartbeat of the same poet taking the cast of players on a journey through whimsy, keen observation and honest appraisal.
Joining Tony Winn on various songs on the album is David Booth, who also has the envious task of engineering and co-producing the album, Helen Mulley, Jonathan Evans, Stephen Turnbull, Val Haines, Richard Lockwood, The Fabulous Winnettes on backing vocals and the exceptional Andy Trill. It is in these cast of players that songs such as Sometimes The Worst Is The Best, You'll Be The Ruin Of Me, Occasional Affairs, What's The Moonlight For? Come and Go With Me and the sublime album title track which opens this glorious pleasure, Push and Pull, are to be praised, admired for their dedication and solid graft.
It doesn't matter when you come across the artist, it only matters that you do, seven albums down the line, it is time to discover Tony Winn.
Ian D. Hall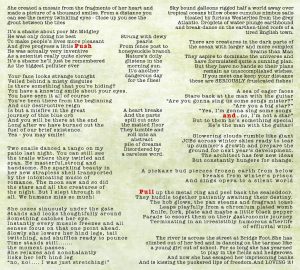 My new album "Push and Pull" is now ready and will be released on 1st June 2018
BUY IT NOW £10 : paypal.me/TonyEllisWinn
You can download the lyrics here.
"Push and Pull" CD Lyrics