Liverpool Sound and Vision Rating 9/10
It doesn't matter when you come across the artist, it only matters that you do. A simple sentence to live by perhaps, but one that inhabits the space arguably between regret and hope like no other; you can spend the time lamenting the realisation that you must missed the unmasking, the early raw period of an artist to whom the music captivates you at the very defining moment you cross paths, or you can hope, you can feel the bounty that is to optimistically come.
It is in the space between that is characterised by the feeling of the Push and Pull, the bouncing between two states of emotions that make you determined to see the intrigue, passion and the love through.
Tony Winn's seventh album is an album that you can define, except for the pulse driven thought, a class act. A highly original album, Push and Pull is up-tempo, eclectic, a poet's work of art, one in which the music is there for the ride, guiding, pushing the lyrics to their wonderful and heartfelt conclusion and the pull? That hook in which you gratefully grab hold of as if by nothing other than a natural urge to see what lays on the other end of the line; that is the heartbeat of the same poet taking the cast of players on a journey through whimsy, keen observation and honest appraisal.
Joining Tony Winn on various songs on the album is David Booth, who also has the envious task of engineering and co-producing the album, Helen Mulley, Jonathan Evans, Stephen Turnbull, Val Haines, Richard Lockwood, The Fabulous Winnettes on backing vocals and the exceptional Andy Trill. It is in these cast of players that songs such as Sometimes The Worst Is The Best, You'll Be The Ruin Of Me, Occasional Affairs, What's The Moonlight For? Come and Go With Me and the sublime album title track which opens this glorious pleasure, Push and Pull, are to be praised, admired for their dedication and solid graft.
It doesn't matter when you come across the artist, it only matters that you do, seven albums down the line, it is time to discover Tony Winn.
Ian D. Hall
http://www.northernskymag.com/reviews/cd-reviews/tony-winn-push-and-pull-free-fall-records
Star rating: 4
Tony Winn – Push And Pull
Tony Winn is an earnest spirited performer and despite seven albums and a career stretching back thirty four years a new name to me. So no surprise then, given that pedigree, that the album crackles with experience and confidence, that tunes and lyrics feel familiar, like old friends or classics. Tracks like Push And Pull, What's The Moonlight For and Lover Is The Reason blend slippery free festival protest music with a punchy reggae beat and the smoother music of Show Of Hands. His passionate delivery and the sharp protest lyrics put me in mind of those excellent new wave Tom Robinson Band records. Or standing in front of an impromptu flat back lorry stage in a cornfield near Stonehenge surrounded by a buzzing festival crowd. Grock is beautiful acoustic singer songwriting at its best. Swirling finger picked guitar around a perfect vocal like the best of Chris Smither or Bruce Cockburn. The story of the melancholic inside of the revered clown is a classic and the delivery is spot on. You'll Be The Ruin Of Me is a perfect Country 'singing into your beer song', but Winn's delivery lifts it into a strident powerful song. Helen Mulley from Helen And The Neighbourhood Dogs delivers a smouldering duet vocal on this brooding album highlight. Andy Trill delivers a perfect guitar solo too.
Video of Grock
PUSH AND PULL contains Occasional Affairs. I Stop To Wonder and Come And Go With Me a set of exquisite piano ballads. With just a little late period Dylan crackle Winn's voice and writing is heartfelt and emotional, while the playing around him is sympathetic and atmospheric. Little splashes of accompaniment like Jonathan Evans' crackle like jewels. Throughout the writing is spot on, words flow from Winn an intelligent pop writer. Songs like Mad Love marry some of the uplifting graceful feel good music of early 70s Van Morrison with a pop beat. A Quiet Night is a perfect lullaby streaked with the voice of weary experience. Perfect that is until the dark punchline, adding more than a touch of Edgar Allen Poe to this Goodnight album closer. Of course Tony Winn, seasoned performer and storyteller holds your attention to the end and this final surprise is the last stop through an interesting and enjoyable album that mixes energy and quiet introspection.
Marc Higgins
Northern Sky
Mardles Magazine:
Finally, our Essex representative, Tony Winn, is one of those rare singer songwriters who is very good at what he does. His album Push and Pull was premiered at a packed launch in Kelvedon this summer where there and here his band comprises David Booth (percussion), Andy Trill (bass, guitar), Stephen Turnbull (keyboards), and the occasional cello, fiddle and sax. The obscure and mundane are not subjects that interest him and his songs often have a twist in the tale. The band sound is very funky, sometimes reminiscent of Graceland, but the pace slows in the middle of the album; Grock has a repeated refrain like a melodic shanty, Occasional Affairs features sparkling piano, and Helen Mulley shares the vocals on You'll be the ruin of me. You will be singing along to the anthemic Come and go with me long after the disc has left the turntable.
TONY WINN – Push And Pull (Freefall FF011D)Folking.com
Hailing from Essex and while you've likely never heard of him, an actor and poet as well as a musician, Winn has sufficient a following to make Push And Pull his seventh album. Given the right exposure, awareness levels could well rise.
It's a highly accessible collection that spans the musical gamut from poppy reggae a la The Beat rather than The Police (as with the opening title track) or a calypsoish 'What's The Moonlight For' with its steel drums to protest folk-pop such as the excellent Tom Robinsonesque shuffling refugee number 'Sometimes The Worst Is The Best', social commentary like the depression-themed 'Grock' or the bouncy gambling-addict tale 'Easy Money'.
There's a clutch of estimable love and relationship songs too, the gentle, cello-adorned folksy fingerpicked 'I Stop To Wonder', Helen Mulley countrified duet 'You'll Be The Ruin Of Me' or the stately piano ballad 'Come And Go With Me' with its train journey imagery and message of unity, both personal and universal.
Closing with the semi-spoken fingerpicked poem 'A Quiet Night' which pulls the rug out from under you in the final lines, this is a real discovery, one I trust many more people will make.
Mike Davies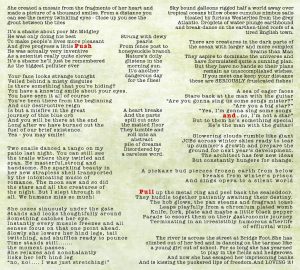 My new album "Push and Pull" is now ready and will be released on 1st June 2018
BUY IT NOW £10 : paypal.me/TonyEllisWinn
You can download the lyrics here.
"Push and Pull" CD Lyrics